The body from Warmoth has been ordered
I've got all the parts or they are coming with the body.
Picks up:
Dimarzio Will Power Neck
Seymour Duncan Steve Harris P (middle)
Seymour Duncan Hot Jazz (bridge)
I noticed switching back from my TF Fretless to my Attitudes that the TF is much louder.
Since I know the stock Fender pickups in the TF don't have more output that the Dimarzios in the Attitudes it has to be that the action on the TF.
No frets + lower action = louder sounding pick ups.
Going off this, I think the Seymour Duncans are a better choice than the super hot Dimarizios considering this is a fretless build and I don't need such super hot distortion as I would on a fretted bass. I think the Seymour Duncans will still provide enough output to drive my EBS Sheehan while still be able to give me a more "normal" bass tone (whatever normal is) plus its nice to change things up abit and if I end up not liking the Seymour Duncans, the Dimarzios are the same size.
Kinda funny this project came together alot faster than I thought it would have. All started with that Kahler coming up for such a good price.
Heres a picture of what I've got so far.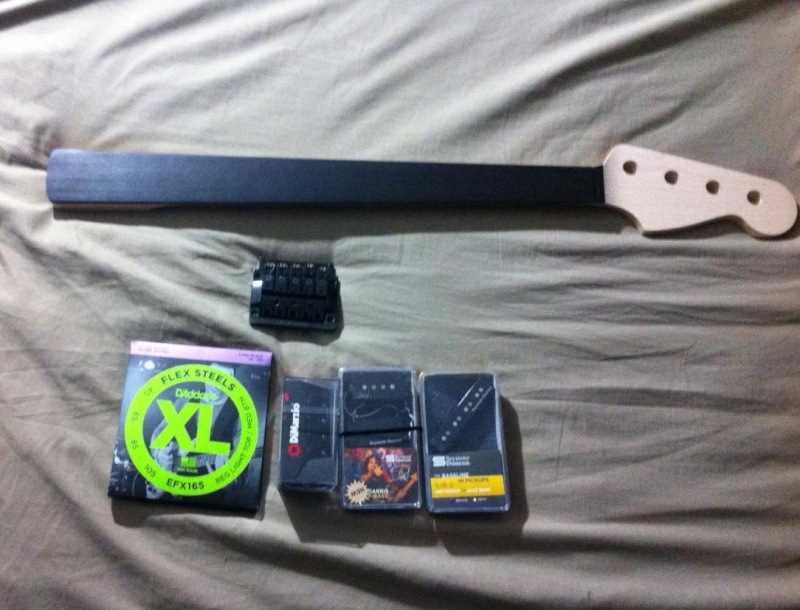 The rest, neckplate/screws, knobs and tuning machines are coming with the body.
Tuners are Schaller BML's. Read good things about them. Then I just need my friend to grab me a graphtech nut.