I signed up a while back but never posted (just kinda got busy).
BUT NOW IS THE TIME! 
Much early this year I ran across a bass on Used GC that I couldn't pass up. 
An Ibanez (me like ibbys!) SR305FM with a Kahler Trem already installed. They only want $200, so I grabbed it with much haste. 
I got the bass and it's generally in good shape for it's age and shows plenty of signs of use. The trem works well. I took it apart and it was definitely a "home" job but they did well enough. Admittedly the action might be a little high (not counter sunk) but I actually like the action a little high on my basses (I detest any fret buzz) and the intonation is there. Other than the trem install, everything else was stock. That has changed since coming into my possession. I ripped all the electronics out and replace with two EMG TWX Pickups (they can be toggled from DC to SC) and a 3 band EMG EQ with sweep-able mids, tone is not a problem! I also installed Sperzel locking tuners. I'm still planning to have a graphite nut installed tho tuning is not currently an issue. And to make sure it was total off the hook, I ordered and installed one of those new extended whammy bars (a dang monster of an arm!) But enough of the jibber-jabber, here's a pic: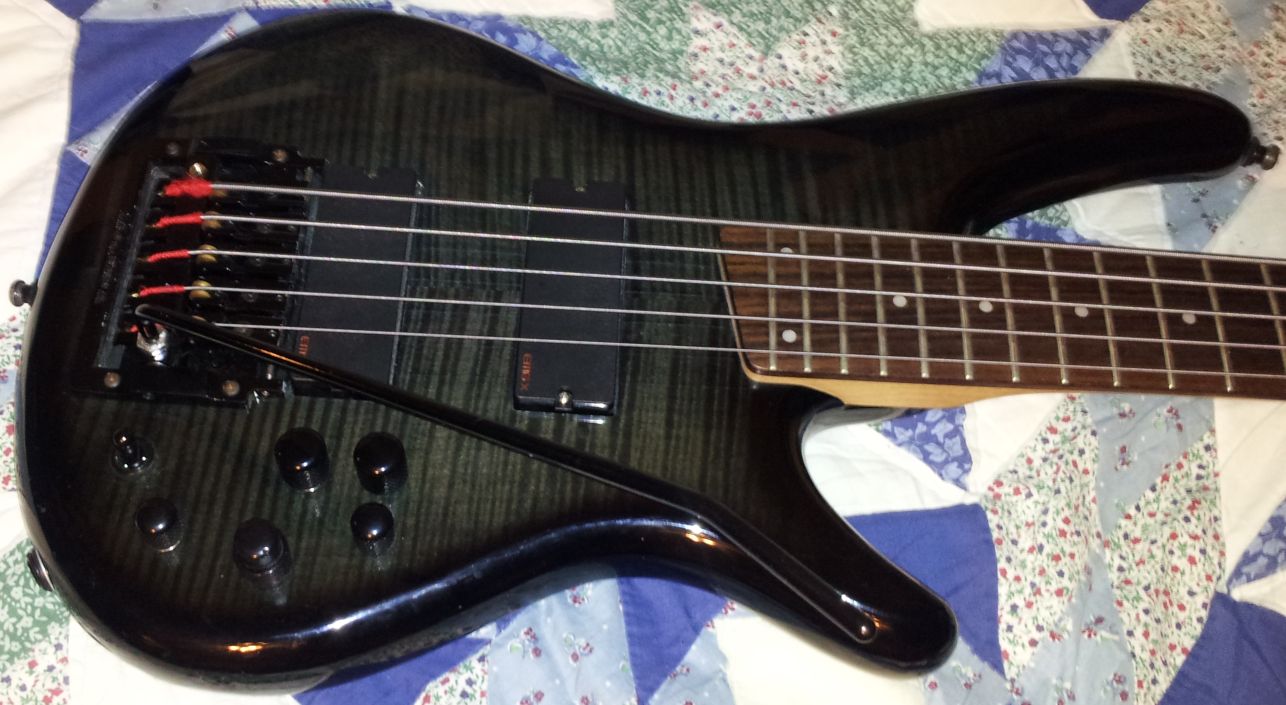 Ok so I like it and it's fun. Plus me and the band have already written a song that calls for this bass as I have plenty of whammy parts in it.

We're also playing around a cover of Jethro Tull's Locomotive Breath and it sounds really cool on the "Wu Wu Wu" parts (you know what I'm talking about!) 
But now here something else I want to ask about. I have this other Ibanez bass that just cries out, "I NEED A WHAMMY!!!" 
That would be this bass: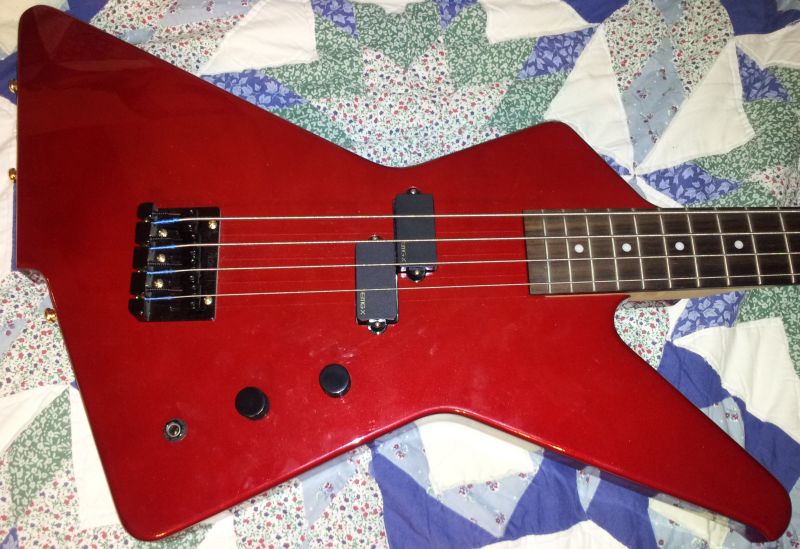 I mean come on, just look a it! Does that thing cry out "WHAMMY ME" or not? (got all the space in the world too!) 
So I've contacting local luthiers trying to find one to do the job. A while back, one guy basically told me that unless I supplied a fancy plexiglass template he wouldn't do it and then proceed to quote me a "what if" price that seemed just too damn high (over $350, sorry but that just seems high for couple of hours work, tops, if that much). 
Yesterday I ran across another luthier, running some holiday specials to drum up some new business. He said he could do for a mere $100 including setup. Hey now, that's a deal! BUT he asked what kind of tremolo would he be mounting, I Kahler I said. He replied that if I bought it new, it should come with a routing template. Is that true? I can't seem to find anything to that effect on Kahler's website. If not, is there any place I could get a physical template (not a download diagram)? As additional FYI, I haven't asked him yet if a diagram would be good enough (the first luthier I mention told me no which made me kinda question his skills) 
So can anyone help me out with that info? 
I'm also eyeballing this one (from Mr. Amimbari here at the forums I believe) and it comes with a template:
http://www.ebay.com/itm/VINTAGE-Kahler-Bass-Bridge-Tremolo-2400-SERIES-/200988176387?pt=Guitar_Accessories&hash=item2ecbd43003
Would a 2400 work for this bass, I'm thinking yes but want to be sure. 
So what to do, what to do? 
hip63